Feature Exhibition:
TEWAZA
Recreating Ryukyuan Handicraft Culture
19 October 2021 (Tue) – 12 December 2021 (Sun)
Cultural Exchange Exhibition Hall, Rooms 9–11
Japan's southern-most prefecture, Okinawa, once flourished as its own independent kingdom, Ryukyu. Much of its unique culture was, however, lost in the Meiji-era pursuit of modernization and the flames of the Second World War. Between 2015 and 2020, the Okinawa Prefectural Museum & Art Museum spearheaded a project to create reproductions of sixty-five objects that encapsulate the culture of the Ryukyu Kingdom. This project saw researchers and artisans working hand in hand to revive some of Ryukyu's lost tangible and intangible cultural properties, and in the process rediscovering their handicraft culture. In presenting a selection of their re-creations during this exhibition, we hope to bring the aesthetic world of the Ryukyuan people into modern day, and, in doing so, highlight the connections between Okinawa's heritage and its future.
With the exceptions of exhibits comprising tools and materials used in production processes, the works displayed are reproductions unless otherwise stated.
Exhibition Highlights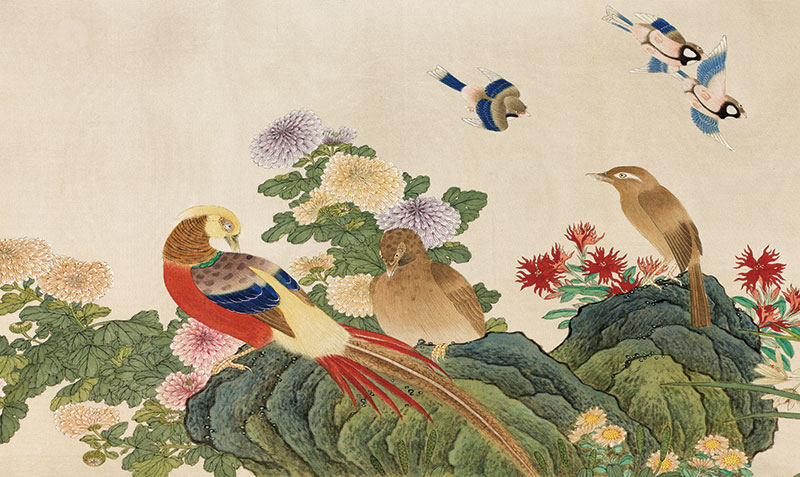 Birds and Flowers of the Four Seasons (segment)
Reproduction: 2019. Original: 1712
A reproduction of Chinese painter Sun Yi's seven-meter-long painting, this work captures all the details and realistic portrayals of animals and plants that is also in the original. The original will also be on display!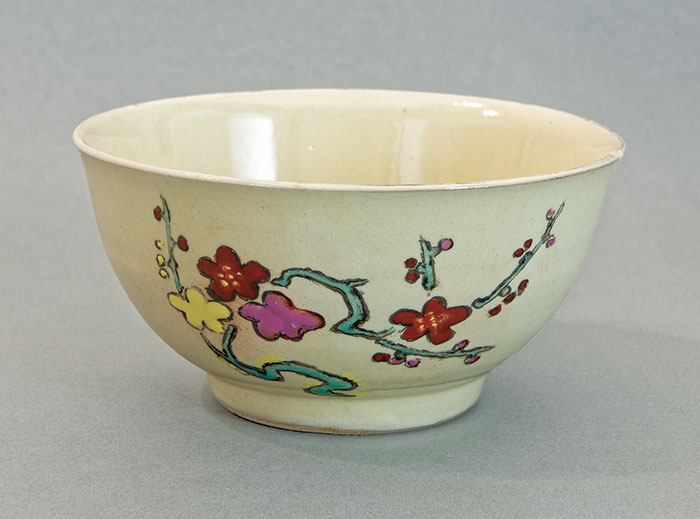 Tsuboya-ware bowl depicting Japanese apricot flowers and bamboo in overglaze enamels
Reproduction: 2018. Original: 19th century
This bowl was features a design rendered in overglaze enamels, using a decorative technique that came from China. The original will also be on display!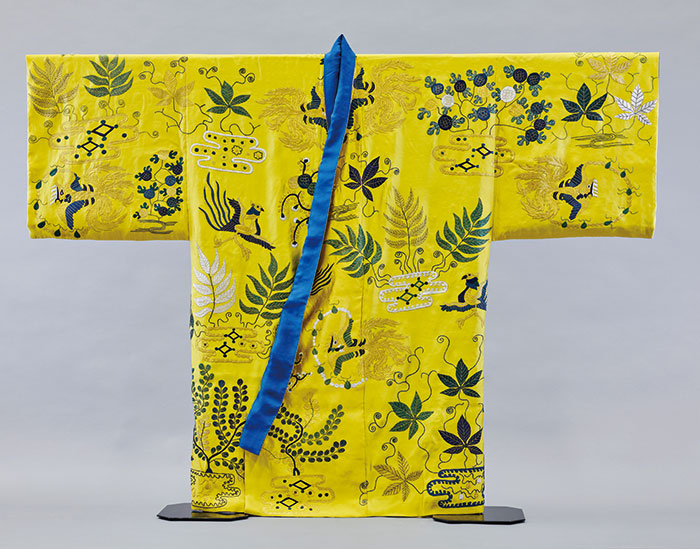 Silk ufusodezin garment for amuganashi (priestesses) on Iheya island
Reproduction: 2019. Original: 15th–16th century
Artisans worked hard to recreate the designs on the original garment using the same Ryukyuan embroidering technique that the original makers had used, which is no longer being practiced or passed down.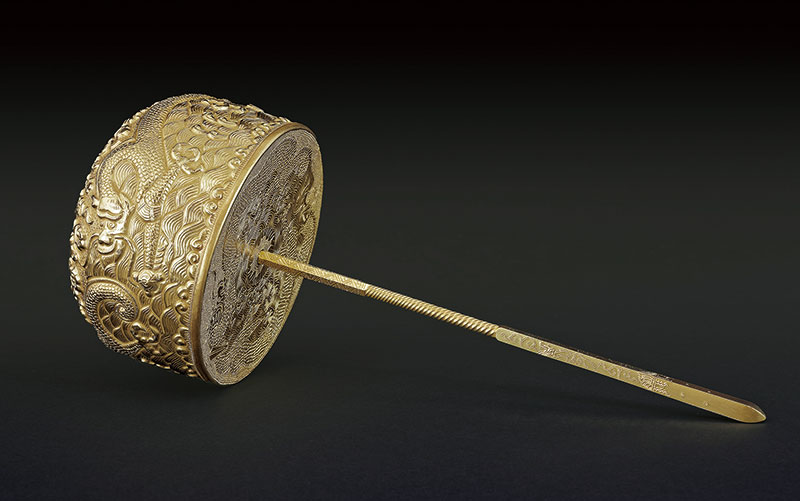 Gold high priestress's ornamental hairpin depicting dragons and clouds
Reproduction: 2016. Original: 16th century
This hairpin belonged to the highest ranking priestess in Ryukyu. The dome-shaped ornament at one end may look heavy due to its size, but is, in fact, hollow.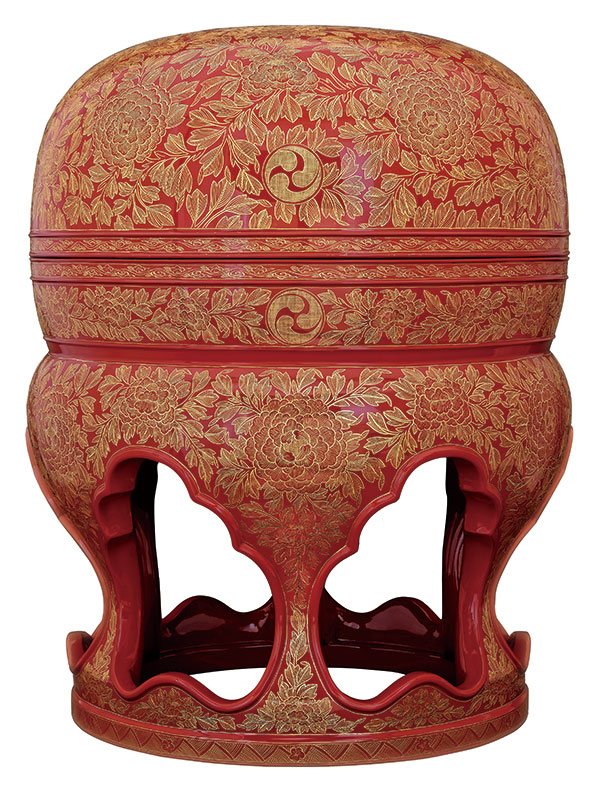 Red lacquerware ukufan (food container for sacred offerings)
Reproduction: 2018. Original (lost): 17th–18th century
It is not obvious from this photo, but this container is actually 60 centimeters tall. Come see the detailed decorations on it up close!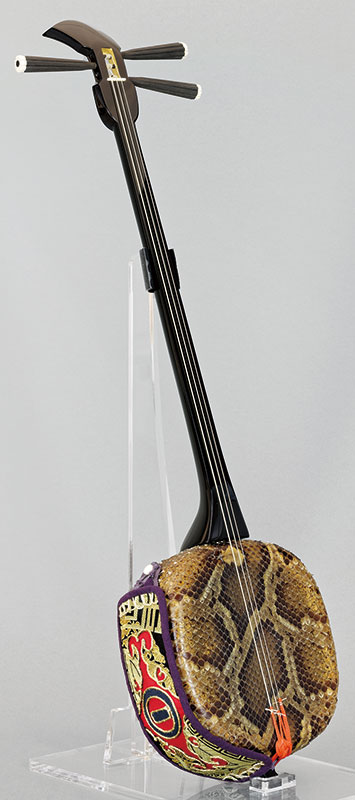 Sanshin Okinawan lute known as "Shitahaku Kējō"
Reproduction: 2018. Original: 19th century
The artisans who worked on this sanshin endeavored to make it both look and sound like the original. The term kējō is only given to sanshin of particularly high quality.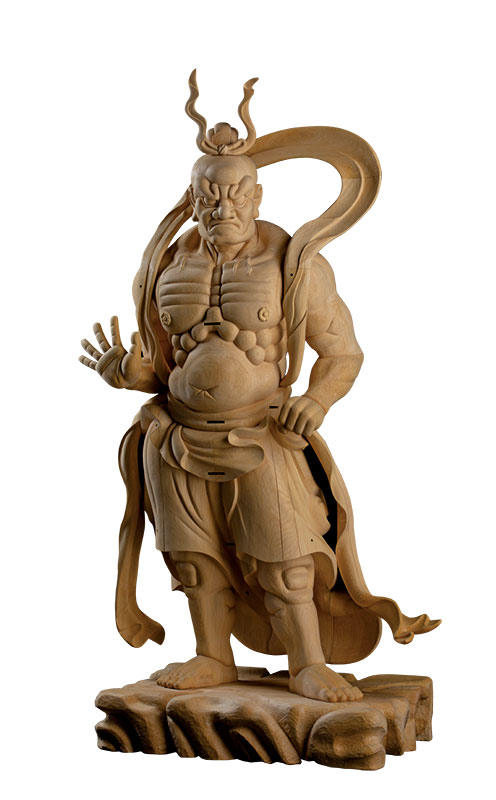 One of a pair of Niō (gate guardians) from Enkakuji Temple
Reproduction: 2020. Original: 15th–16th century
This is a reproduction of the Niō statues that once stood guard before Enkakuji, the ancestral temple of the Ryukyuan royal family. The originals were actually made in mainland Japan, and not Ryukyu!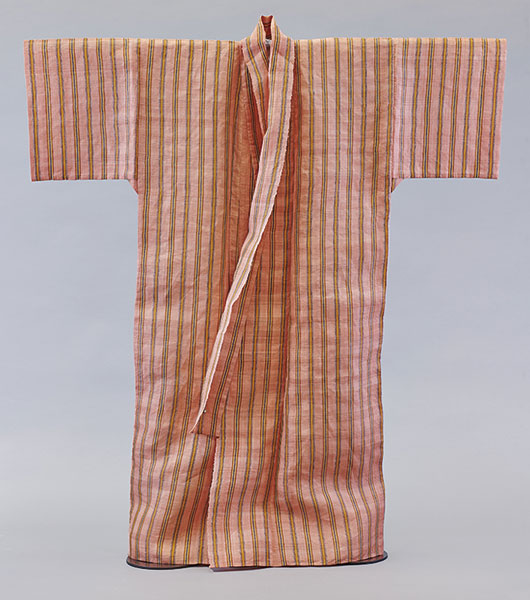 Banana plant fiber tanashi (summer robe) decorated with vertical stripes using gauze weave on pink ground
Reproduction: 2019. Original: 19th century
Woven out of banana plant fibers, this robe was created for female members of the royal family. The shine of the yarn is particularly mesmerizing.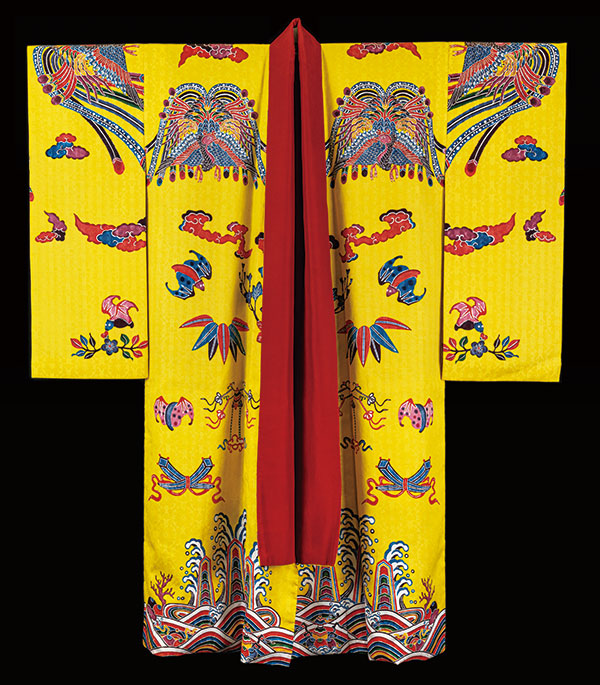 Silk bingata robe depicting phoenixes, bats, and waves on yellow ground; lined with red silk fabric
Reproduction: 2019. Original: 18th–19th century
The original version of this bingata robe was produced in imitaiton of a garment that the Chinese emperor had gifted to the Ryukyu Kingdom. It was passed down the Ryukyuan royal family, and subsequently designated a National Treasure.