Exhibition Schedule 2021–2022
Exhibition Schedule 2021–2022
---
Special Exhibition Hall
These are the Special Exhibitions planned for 2021–2022. Please note that some details, including exhibition titles, have yet to be finalized and are subject to change. Finalized details will be released closer to the date of the exhibition.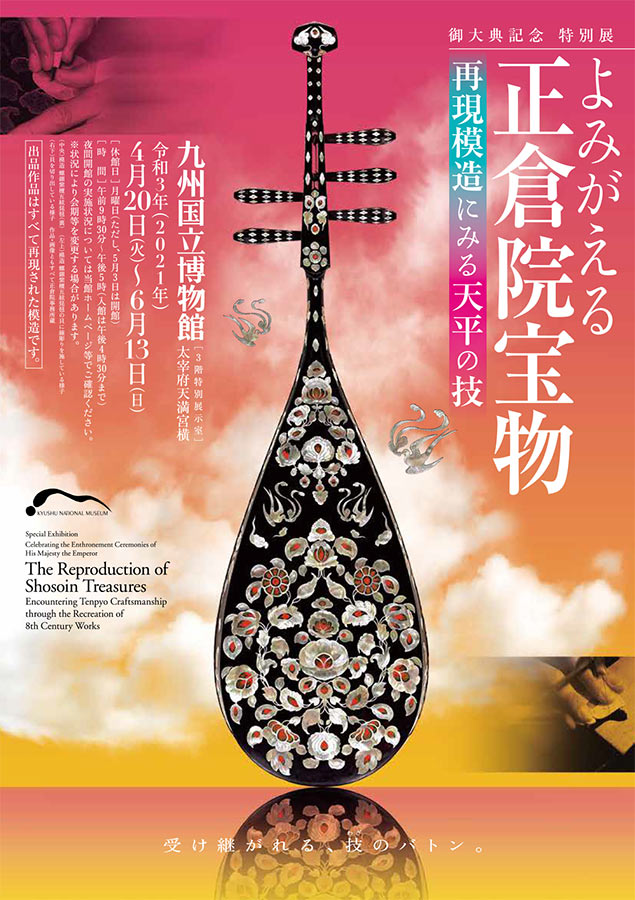 Special Exhibition


---

The Reproduction of Shosoin Treasures
Encountering Tenpyo Craftsmanship through the Recreation of 8th Century Works
20 April 2021 (Tue) – 13 June 2021 (Sun)
---
Organized in honor of the Emperor's enthronement in 2020, this traveling exhibition gathers around ninety reproductions of the treasures in the Shosoin Imperial Repository. These pieces were created through careful analysis of the materials and techniques used to produce the originals, many of which date from the Nara period. Be sure not to miss this dazzling showcase of some of the finest works in the history of Japanese craftsmanship.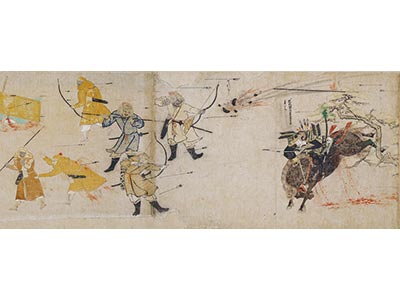 Invasion of the Mongols (part of scroll 1) Museum of the Imperial Collections, Sannomaru Shōzōkan
Special Exhibition


---

Aesthetic Connections
Art from the Japanese Imperial Collection
20 July 2021 (Tue) – 29 August 2021(Sun)
---
Gracing our Special Exhibition Hall this summer is a selection of art and other fine objects from the Japanese imperial collection. These include works presented to the imperial family by artists from Kyushu, reflecting the deep connection between the imperial court and the region. Dive into the aesthetic world of the imperial collection, which is as opulent as it is rich in artistic and historical value.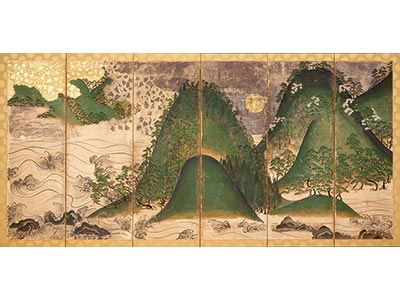 Folding screen depicting mountains and seas; right side (National Treasure)
Kongōji Temple, Osaka
Special Exhibition


---

In the Embrace of the Mountains and Seas
Nature in the Japanese Imagination
9 October 2021 (Sat) – 5 December 2021 (Sun)
---
Japanese people have lived surrounded by the mountains and the seas since ancient times, blessed by nature's riches through the ages. This exhibition explores the many ways Japanese people have interacted with, perceived, and represented nature since the legendary Age of the Gods, and, in doing so, offers new perspectives into the origins of Japanese culture.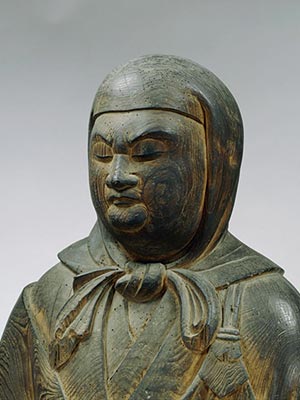 Seated Saichō
Kannonji Temple, Shiga
Special Exhibition


---

Commemorating the 1200th Anniversary of Saichō's Death
Buddhist Art of the Tendai School
8 February 2022 (Tue) – 21 March 2022 (Mon)
---
Saichō was the founder of the Tendai school of Buddhism in Japan. As a priest, he had traveled all over Japan to propagate the Lotus Sutra, which preaches that all beings possess the buddha nature, and thus all have the potential to attain Buddhahood. On the occasion of Saicho's 1200th death anniversary in 2021, retrace the steps he took on his journey in search of enlightenment, as well as the spread of the Tendai school, as you peruse some of the National Treasures and Important Cultural Properties passed down in shrines and temples with connections to the Tendai school.
Please note that the exhibition schedule is subject to change without prior notice. We advise visitors to confirm details of each exhibition on the website before visiting the museum.
---
Cultural Exchange Exhibition Hall
Kyushu National Museum's Cultural Exchange Exhibition Hall is a permanent exhibition hall with a fresh twist. It plays host to Feature Exhibitions, which are smaller-scale exhibitions that bring visitors on an in-depth exploration of more specific aspects of history and culture. Alongside regular exhibit changes and special themed displays, the Cultural Exchange Exhibition tells a different story with each visit. Here are the Feature Exhibitions and other themed displays planned for 2021–2022.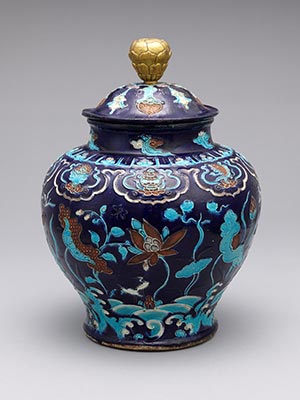 Lidded fahua ware jar depicting herons and lotuses
Kyushu National Museum
Cultural Exchange Exhibition Hall


---

New Acquisitions Showcase
13 April 2021 (Tue) – 23 May 2021 (Sun)
---
Kyushu National Museum constantly seeks to enrich our collection of objects related to cultural exchange between Japan and the rest of Asia. This exhibition showcases some of our newest acquisitions that we have either purchased or have had donated to us in 2019 and 2020. Feast your eyes on our new lineup of historical artifacts, which will make their debut at our museum this spring.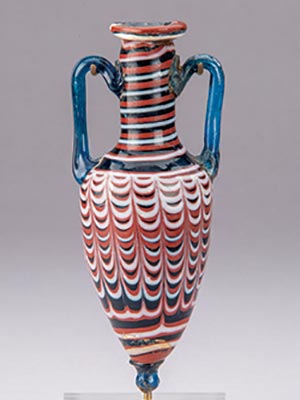 Amphoriskos
Hellenic period, 200–0 BCE
Okayama Orient Museum
Cultural Exchange Exhibition Hall—Feature Exhibition


---

The Colorful World of Ancient Glass
An Okayama Orient Museum Collection Showcase
6 July 2021 (Tue) – 3 October 2021 (Sun)
---
The Okayama Orient Museum boasts an extensive collection of archaeological artifacts from the ancient region of Mesopotamia and its surroundings. In light of the museum's renovation, they have placed their collection temporarily into our care, and graciously allowed us to showcase them in our exhibition space. For this Feature Exhibition, we will be casting a spotlight on the region's history in glasswork, displaying the stone vessels, faience, and glazed wares of old, as well as their eventual replacements following the advent of glass. We will also present research findings from the Okayama Orient Museum's ongoing scientific investigation into these artifacts. Supplementing these works are some ceramics from the Islamic world in their museum's collection. This exhibition will also explore the relationship between glass and glaze, thereby connecting these West Asian works to the artisanal crafts of East Asia.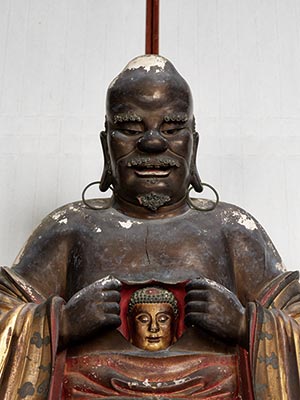 Arhat Rahula (of the Eighteen Arhats)
1664
Manpukuji Temple, Kyoto
Cultural Exchange Exhibition Hall—Feature Exhibition


---

Ming Expression in Edo Temples [working title]
Commemorating the 350th Death Anniversary of Buddhist Sculptor Fan Daosheng
17 July 2021 (Sat) – 10 October 2021 (Sun)
---
Fan Daosheng (1635–70) was a sculptor of Buddhist statues from Fujian, China. During the early Edo period (17th–19th century), he made his way to Nagasaki, Japan, where he worked at the Fukusaiji and Kōfukuji temples. He was subsequently invited to work as a sculptor at the Manpukuji Temple in Uji, Kyoto by none other than its founder, Yinyuan Longqi, the monk who had also established the Ōbaku Zen sect of Buddhism in Japan. As the Ōbaku sect gained traction in Japan, Fan's sculptures at Manpukuji, and the late-Ming Chinese style of Buddhist sculpture that they embodied, also garnered considerable popularity among Zen temples in Japan. In this way, Fan's unique works left their mark on Japanese Buddhist sculpture history. In commemoration of the 350th anniversary of Fan's death in 2020, we have put together this commemorative exhibition to celebrate Fan's works, including but not limited to his sculptures, paintings, and writings.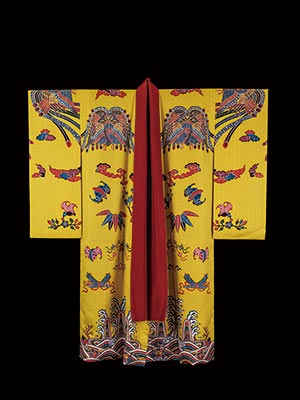 Yellow lined bingata robe decorated with phoenix, bat, and wave motifs (reproduction)
Okinawa Prefectural Museum & Art Museum
Cultural Exchange Exhibition Hall—Feature Exhibition


---

Tewaza
Legacy of the Ryukyu Kingdom
19 October 2021 (Tue) – 12 December 2021 (Sun)
---
Modernization and warfare have led to the disappearance of many valuable cultural relics from the Ryukyu Kingdom (present-day Okinawa Prefecture), as well as the knowledge and skills to make them. Since 2015, the Okinawa Prefectural Museum has undertaken the herculean task of using modern scholarly approaches and state-of-the-art technology to document, analyze, and revive cultural heritages once lost to us. This exhibition will present their findings and re-creations in a variety of fields, from fine arts to decorative arts, and even musical instruments. Delve deeper into the unique tale of cultural exchange as told by these objects, which hark from a region both culturally distinct from, yet historically intertwined with the rest of Japan.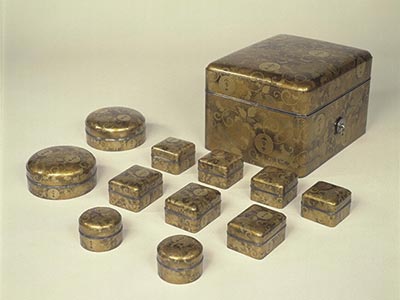 Containers for toiletries
18th century
Agency for Cultural Affairs
Cultural Exchange Exhibition Hall—New Year Special Display


---

Hatsune Maki-e Lacquer Trousseau
National Treasure from the Tokugawa Art Museum
1 January 2022 (Sat) – 30 January 2022 (Sun)
---
Kyushu National Museum's annual display of the Hatsune maki-e lacquer trousseau returns on 1 January 2022. Come celebrate the New Year with us and feast your eyes on some of the most gorgeous wedding furnishings ever created in Japanese history.
Feature Exhibitions and other themed displays all take place in the permanent Cultural Exchange Exhibition Hall. All Special Exhibition tickets also include entry into the Cultural Exchange Exhibition.
Please note that exhibition titles and details are subject to change without prior notice. We advise visitors to confirm details of the exhibitions on the website before visiting the museum.