Past Feature Exhibitions and Special Displays (2019 onward)
---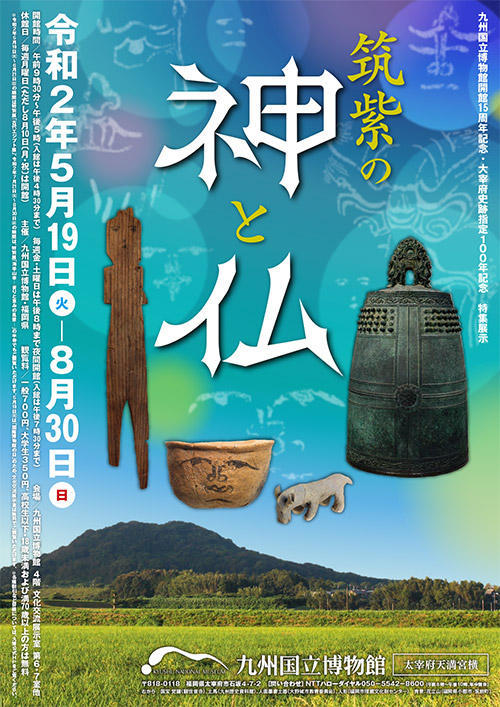 Cultural Exchange Exhibition Hall—Feature Exhibition


---

Celebrating 15 Years of Kyushu National Museum and Commemorating 100 Years of the Dazaifu Historical Site Designation
Worship in Tsukushi
2 June 2020 (Tue) – 30 August 2020 (Sun)
---
The ancient city of Dazaifu functioned not only as a regional government center within Kyushu, but also as Japan's window of trade with continental Asia. Historical accounts testify to how it flourished as a center of culture, yet beneath all that lay a society gripped by unrest stemming from political dispute and illness. Such anxiety caused the people to turn to worship of gods or Buddhism, as they offered prayers to local deities and Buddhist figures alike in hopes of a peaceful life. This exhibition features artifacts that reflect the diversity in forms of worship in Dazaifu.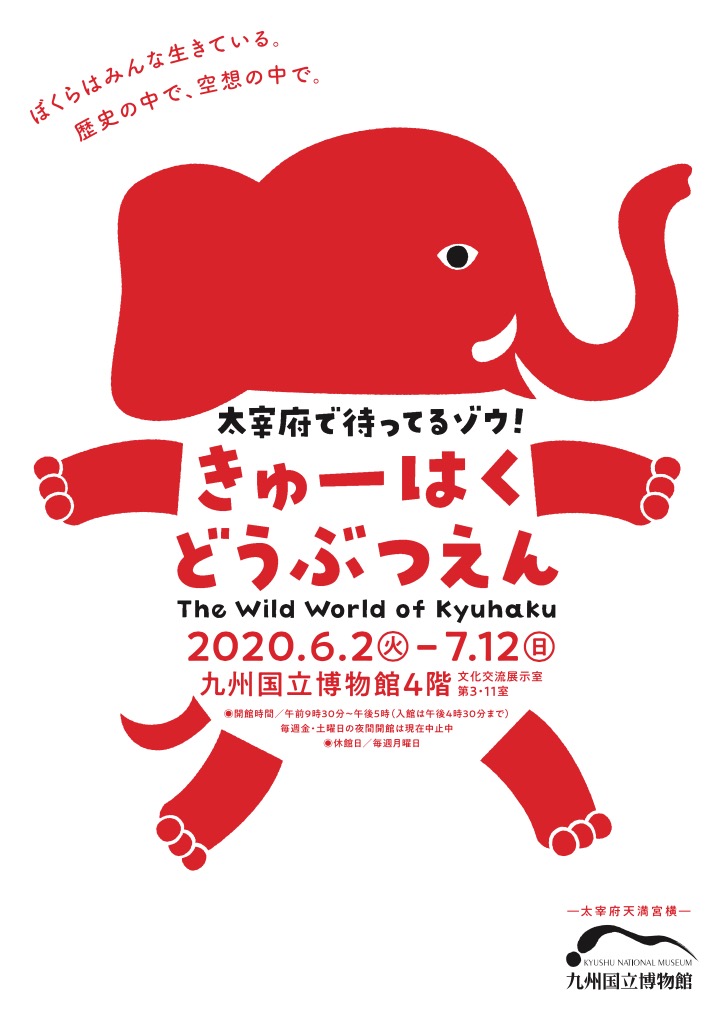 Cultural Exchange Exhibition Hall—Feature Exhibition


---

The Wild World of Kyuhaku
2 June 2020 (Tue) – 12 July 2020 (Sun)
---
Animals! Animals, everywhere! Kyushu National Museum has invited a zoo of creatures both real and imaginary to its halls. Come see how people of the past painted tigers, sculpted elephants, and molded horses in this exciting new exhibition that is sure to appeal to little ones and adults alike!
Cultural Exchange Exhibition Hall—Feature Exhibition


---

An Introduction to Swords
Touken World Foundation and Kyushu National Museum
1 January 2020 (Wed) – 24 February 2020 (Mon)
---
Japanese swords have always been a subject of fascination both within and outside of Japan. Global interest in Japanese swords has grown over the past few years, and continues to do so even as we enter a new decade. Nevertheless, the barrier to understanding and appreciating these exquisite works of art looms high, the various terminology associated with sword parts and designs proving archaic and inaccessible even to the Japanese. This exhibition aims to provide an introduction to Japanese swords, with multilingual panels and descriptions explaining their main features as well as their history.
Cultural Exchange Exhibition Hall New Year Special Display


---

Hatsune Maki-e Lacquer Trousseau
National Treasure from the Tokugawa Art Museum
1 January 2020 (Wed) – 26 January 2020 (Sun)
---
New Year: a time for new things. New clothes, new resolutions, and perhaps even a new chapter in life. All these come together in our ninth annual New Year Special Display of the Hatsune Maki-e Lacquer Trousseau, a National Treasure on loan from the Tokugawa Art Museum. This spectacular trousseau is an example of a set of furnishings created especially for a princess in the Edo period on the occasion of her marriage. Decorated with motifs from the "Hatsune" (The First Warbler) chapter of the Heian-period narrative The Tale of Genji, this trousseau followed Princess Chiyohime to her new home. This year, we have three items from the Hatsune trousseau, all decorated extravagantly in gold and silver using maki-e lacquer. Supplementing them are artworks also inspired by The Tale of Genji, as well as items from another Edo-period trousseau. This New Year's season, come and see what a princess in that period would have brought with her as she entered a new stage in life.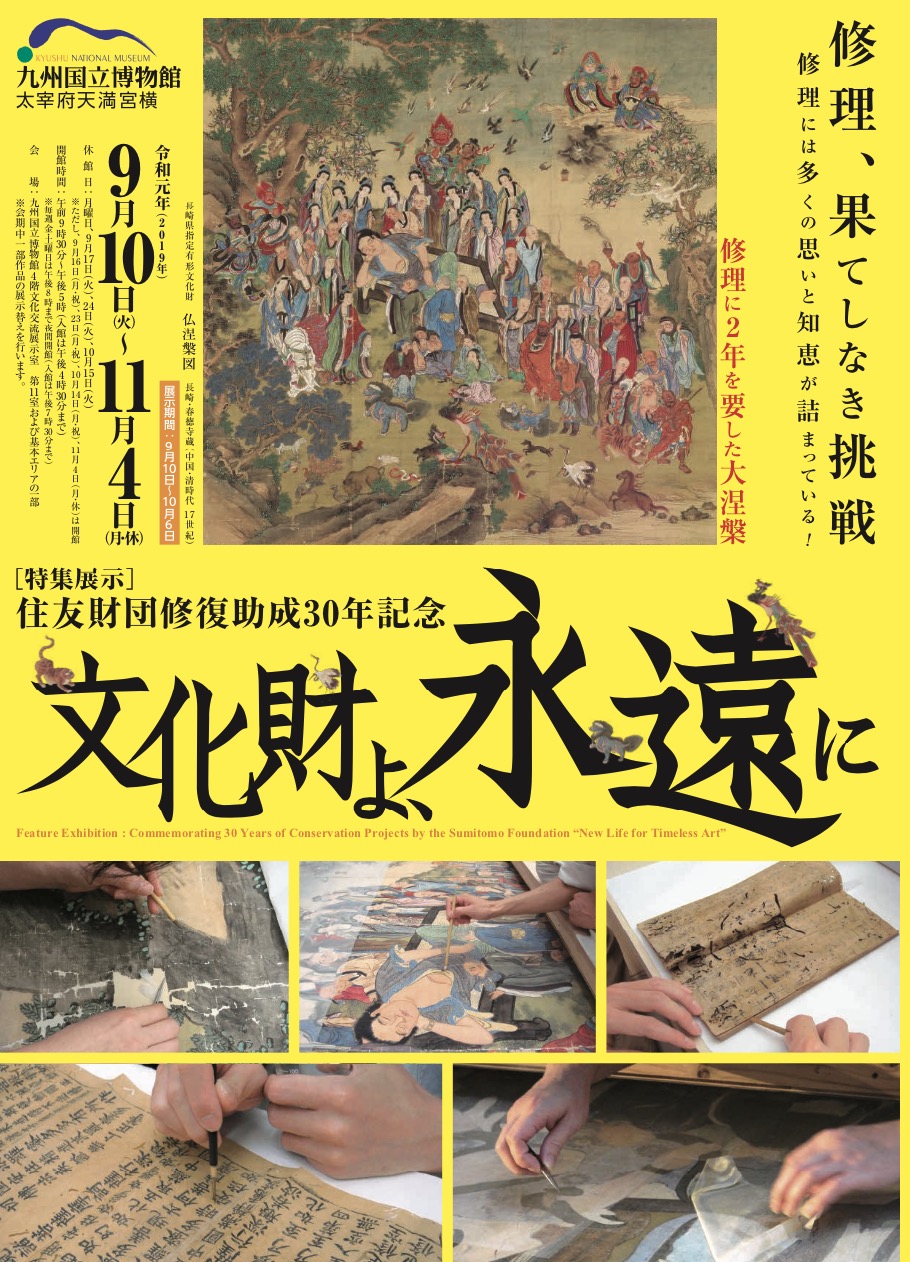 Cultural Exchange Exhibition Feature Exhibition


---

Feature Exhibition: Commemorating 30 Years of Conservation Projects by the Sumitomo
Foundation "New Life for Timeless Art"
September 10, 2019 (Tue) – November 4, 2019 (Mon)
---
It is not possible for anything that has form to hold its shape for eternity. For cultural properties made of fragile materials like lacquer and silk, periodic restoration is essential. Cultural properties that are given a new lease on life with financial assistance from Sumitomo Foundation will be displayed, proving that there is meaning to their restoration.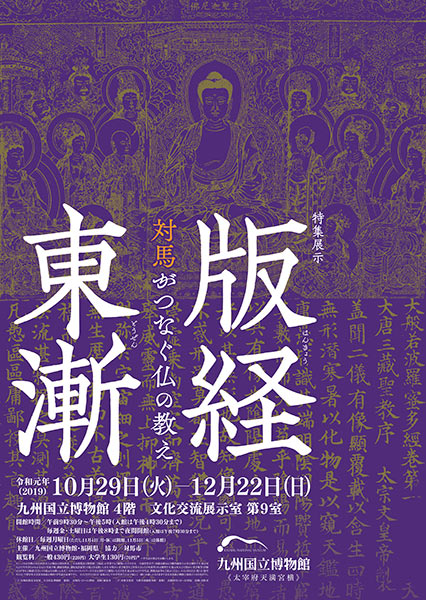 Cultural Exchange Exhibition Feature Exhibition


---

Eastward Expansion of Printed Sutras: Tsushima built the relationship of printed sutras between Asia and Japan
October 29, 2019 (Tue) – December 22, 2019 (Sun)
---
During the Japan-Korea exchange in the Muromachi period, the shogunate families and feudal lords, as well as the Sō clan in Tsushima, had hoped for the Tripiṭaka (Buddhist scriptures), which were printed in China and the Korean Peninsula, to achieve widespread popularity. They presented the Buddhist scriptures as an offering to temples and shrines to pray for the national peace as well as their own prestige and power. This exhibition will feature the relationship of printed sutras and Tsushima, as well as introduce their role in facilitating cultural exchange between East Asia in medieval times.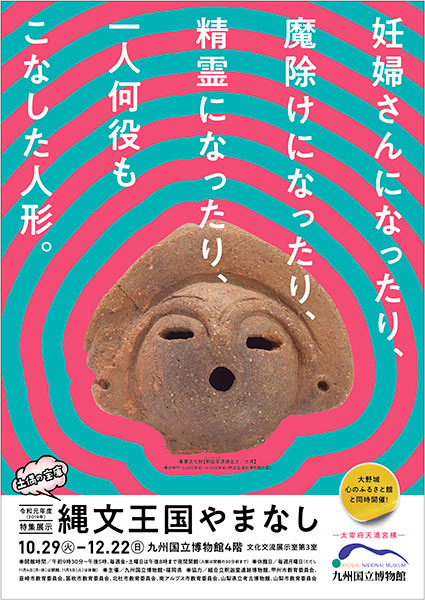 Cultural Exchange Exhibition Feature Exhibition


---

Jomon Kingdom, Yamanashi
October 29, 2019 (Tue) – December 22, 2019 (Sun)
---
The Jomon period had continued for nearly ten thousand years. Its golden age was celebrated in the middle of the Central Highland and its surrounding regions, and the ornately designed flame-shaped earthenware from Niigata was created in various places. This exhibition will showcase the appeal of Jomon culture in Yamanashi through earthenware from the Shakado Historic Ruins in Central Highland.