Opening Hours
9:30–17:00
Fridays & Saturdays: Until 20:00
Closed: Every Monday
(If Monday is a public holiday, it will be open and the Museum will be closed the next day.)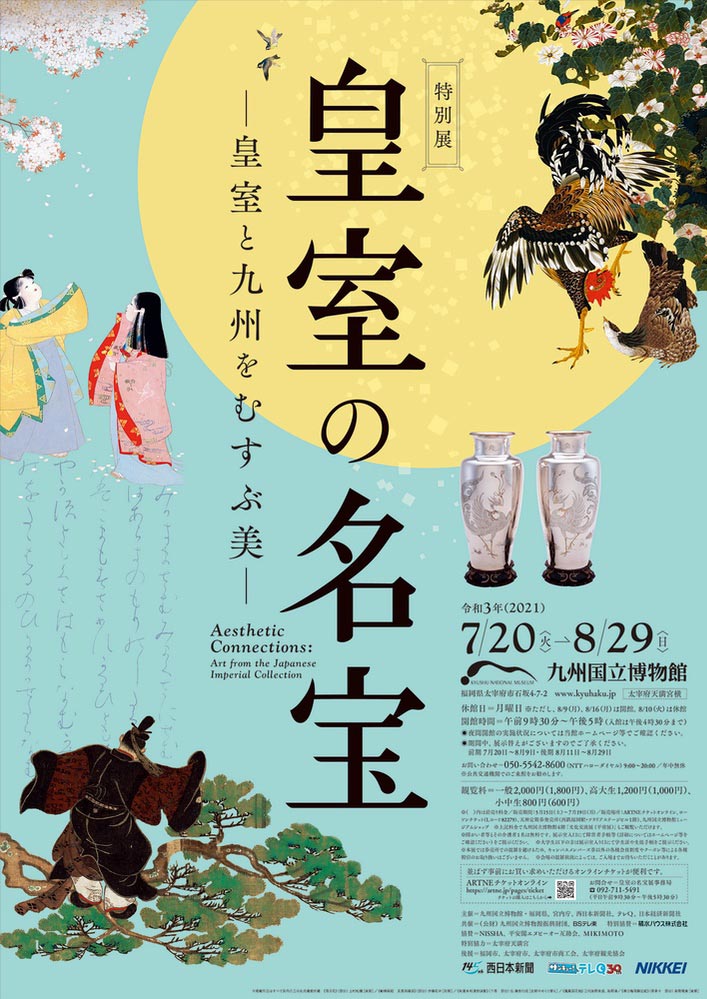 Special Exhibition


---

Aesthetic Connections
Art from the Japanese Imperial Collection
20 July 2021 (Tue) – 29 August 2021(Sun)
---
Gracing our Special Exhibition Hall this summer is a selection of art and other fine objects from the Japanese imperial collection. These include works presented to the imperial family by artists from Kyushu, reflecting the deep connection between the imperial court and the region. Dive into the aesthetic world of the imperial collection, which is as opulent as it is rich in artistic and historical value.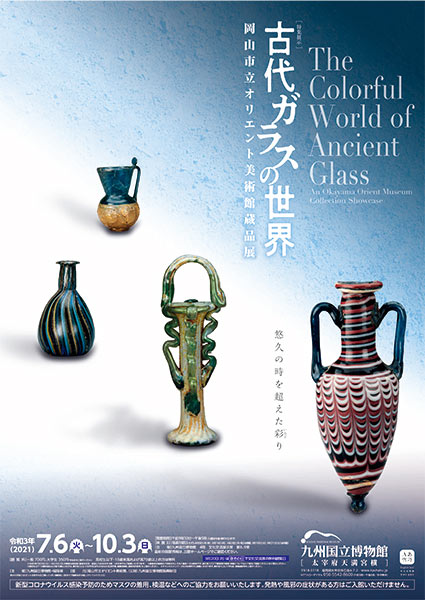 Cultural Exchange Exhibition Hall—Feature Exhibition


---

The Colorful World of Ancient Glass
An Okayama Orient Museum Collection Showcase
6 July 2021 (Tue) – 3 October 2021 (Sun)
---
The Okayama Orient Museum boasts an extensive collection of archaeological artifacts from the ancient region of Mesopotamia and its surroundings. In light of the museum's renovation, they have placed their collection temporarily into our care, and graciously allowed us to showcase them in our exhibition space. For this Feature Exhibition, we will be casting a spotlight on the region's history in glasswork, displaying the stone vessels, faience, and glazed wares of old, as well as their eventual replacements following the advent of glass. We will also present research findings from the Okayama Orient Museum's ongoing scientific investigation into these artifacts. Supplementing these works are some ceramics from the Islamic world in their museum's collection. This exhibition will also explore the relationship between glass and glaze, thereby connecting these West Asian works to the artisanal crafts of East Asia.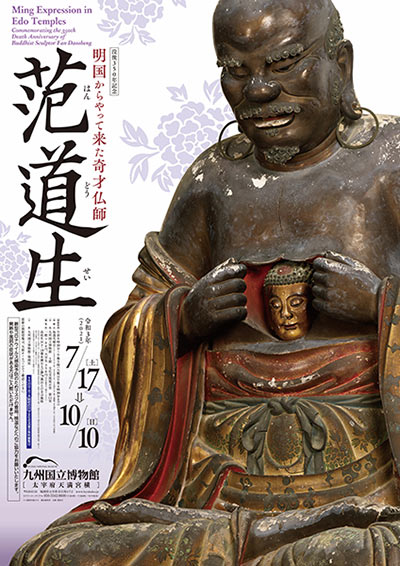 Cultural Exchange Exhibition Hall—Feature Exhibition


---

Ming Expression in Edo Temples
Commemorating the 350th Death Anniversary of Buddhist Sculptor Fan Daosheng
17 July 2021 (Sat) – 10 October 2021 (Sun)
---
Fan Daosheng (1635–70) was a sculptor of Buddhist statues from Fujian, China. During the early Edo period (17th–19th century), he made his way to Nagasaki, Japan, where he worked at the Fukusaiji and Kōfukuji temples. He was subsequently invited to work as a sculptor at the Manpukuji Temple in Uji, Kyoto by none other than its founder, Yinyuan Longqi, the monk who had also established the Ōbaku Zen sect of Buddhism in Japan. As the Ōbaku sect gained traction in Japan, Fan's sculptures at Manpukuji, and the late-Ming Chinese style of Buddhist sculpture that they embodied, also garnered considerable popularity among Zen temples in Japan. In this way, Fan's unique works left their mark on Japanese Buddhist sculpture history. In commemoration of the 350th anniversary of Fan's death in 2020, we have put together this exhibition to celebrate Fan's works, including but not limited to his sculptures, paintings, and writings.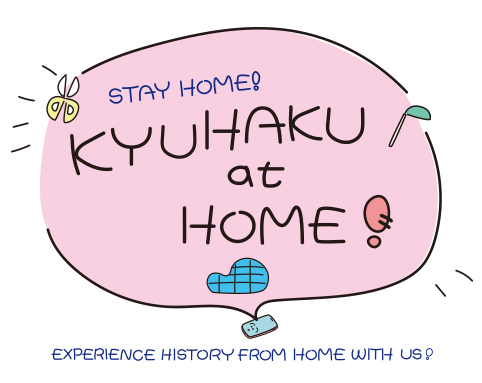 Welcome to Kyuhaku at Home!
---
Kyuhaku, short for Kyushu National Museum, is home to the Womens' Archaeology Club, and Ajippa, an interactive exhibition gallery.
Kyuhaku at Home is a video series by these groups that aims to bring fun activities from the museum to your home!
Kyuhaku at Work!
---
Loosely inspired by the popular Japanese TV programme Jounetsu Tairiku, this video series casts a spotlight onto some of the people working behind the scenes in Kyushu National Museum (Kyuhaku), bringing you an insider view into their work, as well as their aspirations for the museum.
Updated Visitation Guidelines

Please visit the announcement page for details on visitor guidelines, opening hours, exhibit/facility closures, and how to prepare for your visit.
2 September 2020 Update: Ajippa, our interactive exhibition gallery on the first floor, has reopened to the public. Please visit this page for more details.
From 6 April 2021 onward, visitors will be able to take photos of the exhibits (with exceptions) in our permanent Cultural Exchange Exhibition Hall. Please visit this page for more details.
---
---
---
---