Kyushu National Museum has reopened to the public

Please visit the announcement page for details on visitor guidelines, opening hours, exhibit/facility closures, and how to prepare for your visit.
2 September 2020 Update: Ajippa, our interactive exhibition gallery on the first floor, has reopened to the public. Please visit this page for more details.
Opening Hours
9:30–17:00
Fridays & Saturdays: Until 20:00
Closed: Every Monday
(If Monday is a public holiday, it will be open and the Museum will be closed the next day.)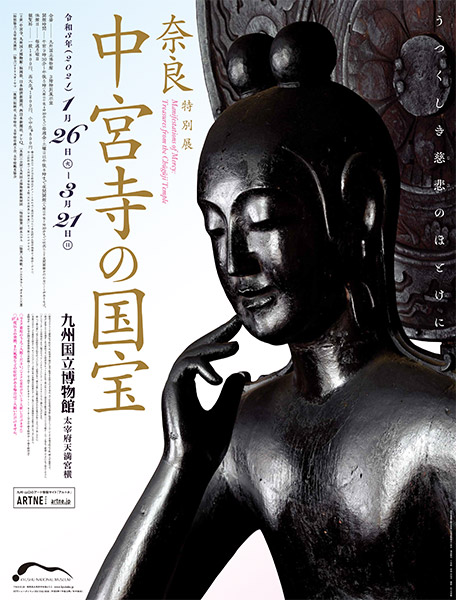 Special Exhibition


---

Manifestations of Mercy
Treasures from the Chūgūji Temple
26 January 2021 (Tue) – 21 March 2021 (Sun)
---
Chūgūji is a temple located in in Ikaruga, Nara. It was built in the Asuka period by Prince Shōtoku in honor of his mother, and enshrines a pensive bodhisattva statue, a National Treasure that has also been deemed the pinnacle of Asuka-period art. This bodhisattva will make its Kyushu debut in this exhibition, alongside the Tenjukoku Embroidery, another National Treasure owned by the temple, as well as many other of their treasures.
Special Arrangements for COVID-19
- We will be implementing entry limits on the number of visitors to prevent overcrowding in the exhibition hall.

As such, all visitors should purchase tickets and book a visiting time slot online prior to their visit.

Online tickets are available at ARTNE (please click the globe icon at the top right corner for English interface).
Due to logistical reasons, visitors to this Special Exhibition will be required to view the Special Exhibition (third floor) before the Cultural Exchange Exhibition (fourth floor permanent exhibition). Visitors will be presented an admission card to the Cultural Exchange Exhibition upon entry to the Special Exhibition. Admission cards to the Cultural Exchange Exhibition are valid throughout the Special Exhibition period (until 21 March 2021). Visitors who wish to also view the Cultural Exchange Exhibition on the same day should book earlier time slots on ARTNE so that they have ample time to view both exhibitions before closing time.
Audio guides are not available for this exhibition. However, exhibit labels are still available in Japanese, English, Chinese, and Korean. We seek your understanding and cooperation.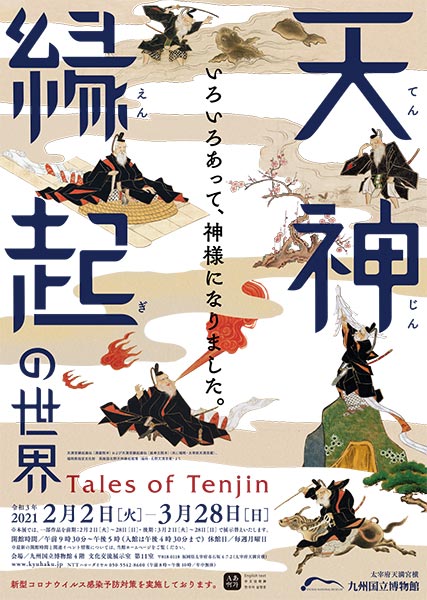 Cultural Exchange Exhibition Hall—Feature Exhibition


---

Tales of Tenjin
2 February 2021 (Tue) – 28 March 2021 (Sun)
---
Tenjin, the god of learning, is the deification of the Heian poet and scholar Sugawara no Michizane. Stories of his life have inspired many works of art, and over time, also evolved into regional versions of his legends. This exhibition brings together works that illustrate the world of Tenjin and the stories associated with him.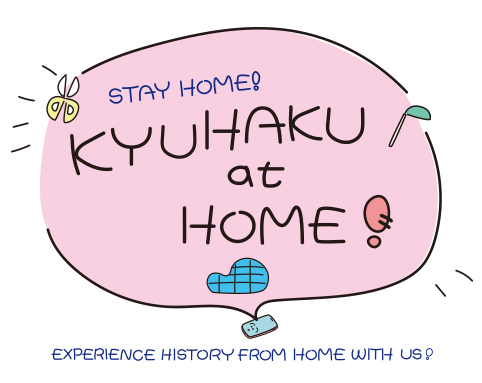 Welcome to Kyuhaku at Home!
---
Kyuhaku, short for Kyushu National Museum, is home to the Womens' Archaeology Club, and Ajippa, an interactive exhibition gallery.
Kyuhaku at Home is a video series by these groups that aims to bring fun activities from the museum to your home!
Kyuhaku at Work!
---
Loosely inspired by the popular Japanese TV programme Jounetsu Tairiku, this video series casts a spotlight onto some of the people working behind the scenes in Kyushu National Museum (Kyuhaku), bringing you an insider view into their work, as well as their aspirations for the museum.
---
---
---
---