Opening Hours
9:30–17:00
Fridays & Saturdays: Until 20:00
Closed: Every Monday
(If Monday is a public holiday, it will be open and the Museum will be closed the next day.)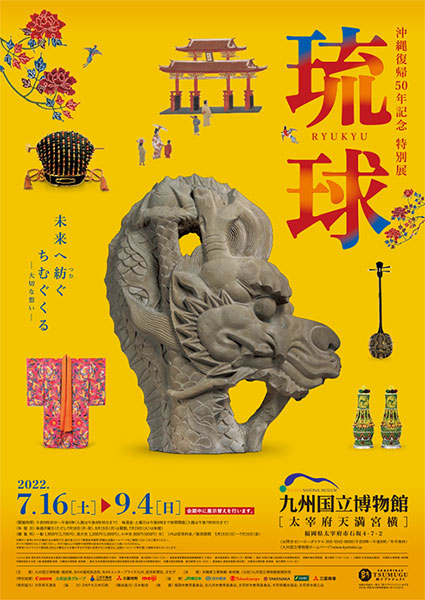 Special Exhibition Commemorating the 50th Anniversary of Okinawa's Reversion to Japan


---

Ryukyu
16 July – 4 September 2022
---
The Ryukyu Kingdom was once an island nation that ruled modern-day Okinawa. It thrived as a transit base for trade and diplomacy between countries along the Asian oceans, and came to flourish as the bridge connecting its peoples. From its prosperity during the Second Shō dynasty through the challenges it has faced in recent history, its people have worked steadily and diligently to preserve, pass on, and celebrate their history and culture. The year 2022 marks the fiftieth anniversary of Okinawa's return to Japan from American rule. In commemoration, we have put together an exhibition of unprecedented scale exploring the establishment of the Ryukyu Kingdom in the Asian context as well as the distinctive aesthetic of its culture. We hope that this exhibition will provide an opportunity for visitors to deepen their understanding of the history and culture of Ryukyu and Okinawa, which continues to shine bright in the modern world, as well as to realize the importance of preserving it for future generations.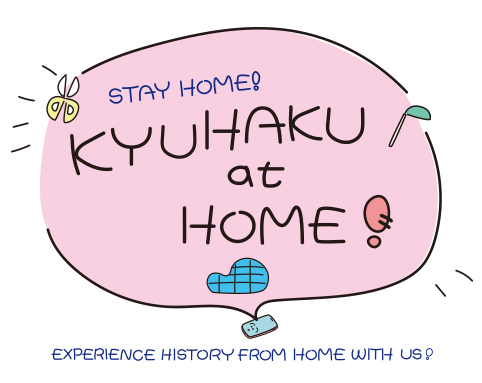 Welcome to Kyuhaku at Home!
---
Kyuhaku, short for Kyushu National Museum, is home to the Womens' Archaeology Club, and Ajippa, an interactive exhibition gallery.
Kyuhaku at Home is a video series by these groups that aims to bring fun activities from the museum to your home!
Kyuhaku at Work!
---
Loosely inspired by the popular Japanese TV programme Jounetsu Tairiku, this video series casts a spotlight onto some of the people working behind the scenes in Kyushu National Museum (Kyuhaku), bringing you an insider view into their work, as well as their aspirations for the museum.
Updated Visitation Guidelines

Please visit the announcement page for details on visitor guidelines, opening hours, exhibit/facility closures, and how to prepare for your visit.
2 September 2020 Update: Ajippa, our interactive exhibition gallery on the first floor, has reopened to the public. Please visit this page for more details.
From 6 April 2021 onward, visitors will be able to take photos of the exhibits (with exceptions) in our permanent Cultural Exchange Exhibition Hall. Please visit this page for more details.
---
---
---
---