Opening Hours
9:30–17:00
Fridays & Saturdays: Until 20:00
Closed: Every Monday
(If Monday is a public holiday, it will be open and the Museum will be closed the next day.)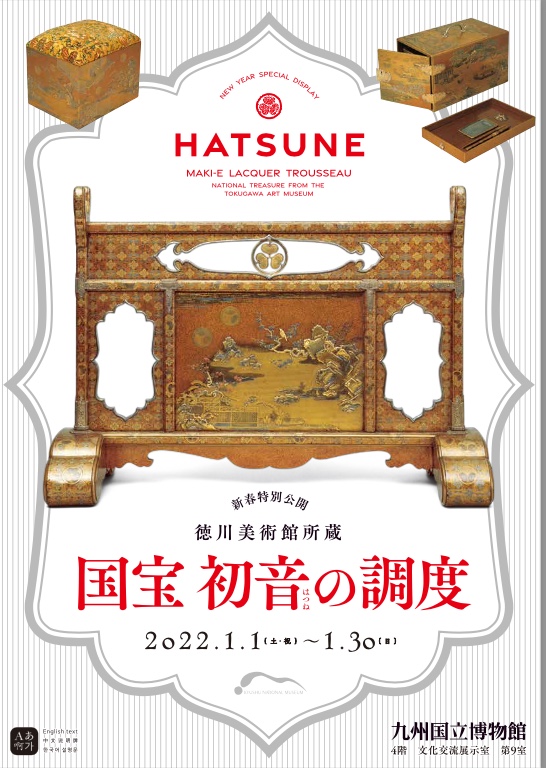 Cultural Exchange Exhibition Hall New Year Special Display


---

Hatsune Maki-e Lacquer Trousseau
National Treasure from the Tokugawa Art Museum
1 January 2022 (Fri) – 30 January 2022 (Sun)
---
The New Year: a time for new things. New clothes, new resolutions, and perhaps even a new chapter in life. All these come together in our tenth annual New Year Special Display of the Hatsune Maki-e Lacquer Trousseau, a National Treasure on loan from the Tokugawa Art Museum. This spectacular trousseau is an example of a set of furnishings that would have been created specially for a princess in the Edo period on the occasion of her marriage. Decorated with motifs from the "Hatsune" (The First Warbler) chapter of the Heian-period narrative The Tale of Genji, this particular trousseau followed Princess Chiyohime to her new home. This year, we have three items from the Hatsune trousseau, all decorated extravagantly in gold and silver using maki-e lacquer. Supplementing them are paintings featuring other Genji-related motifs, as well as items from another Edo-period trousseau.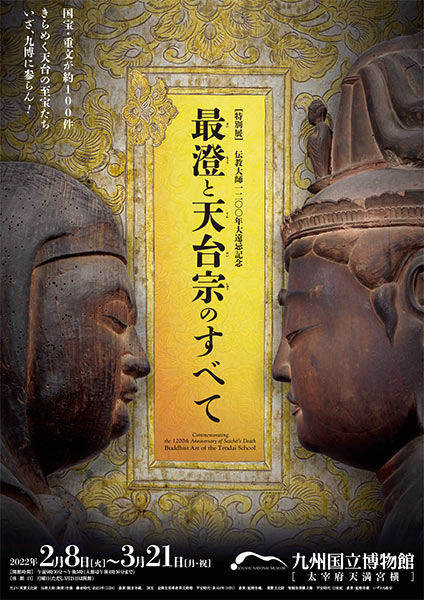 Special Exhibition Commemorating the 1200th Anniversary of Saichō's Death


---

Buddhist Art of the Tendai School
8 February 2022 (Tue) – 21 March 2022 (Mon)
---
Saichō (767–822) was the founder of the Tendai school of Buddhism in Japan. As a priest, he had traveled all over Japan to propagate the Lotus Sutra, which preaches that all beings possess the buddha nature, and thus all have the potential to attain Buddhahood. On the occasion of Saicho's 1200th death anniversary in 2021, retrace the steps he took on his journey in search of enlightenment and learn more about the spread of the Tendai school as you peruse some of the National Treasures and Important Cultural Properties passed down in shrines and temples connected to the Tendai school.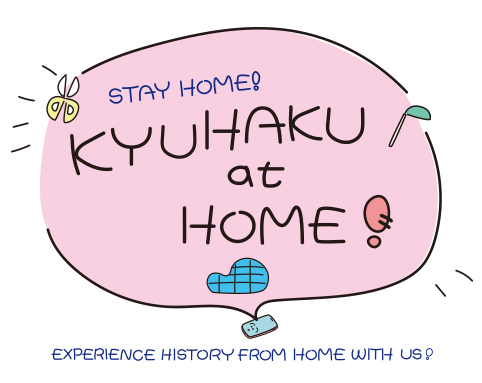 Welcome to Kyuhaku at Home!
---
Kyuhaku, short for Kyushu National Museum, is home to the Womens' Archaeology Club, and Ajippa, an interactive exhibition gallery.
Kyuhaku at Home is a video series by these groups that aims to bring fun activities from the museum to your home!
Kyuhaku at Work!
---
Loosely inspired by the popular Japanese TV programme Jounetsu Tairiku, this video series casts a spotlight onto some of the people working behind the scenes in Kyushu National Museum (Kyuhaku), bringing you an insider view into their work, as well as their aspirations for the museum.
Updated Visitation Guidelines

Please visit the announcement page for details on visitor guidelines, opening hours, exhibit/facility closures, and how to prepare for your visit.
2 September 2020 Update: Ajippa, our interactive exhibition gallery on the first floor, has reopened to the public. Please visit this page for more details.
From 6 April 2021 onward, visitors will be able to take photos of the exhibits (with exceptions) in our permanent Cultural Exchange Exhibition Hall. Please visit this page for more details.
---
---
---
---