Current Exhibitions
Current Exhibitions
---
Special Exhibitions
The Special Exhibitions are treasure troves of inspiration filled with beauty and knowledge from all over the world. They are held several times a year under a wide range of themes, displaying excellent works carefully selected from collections in Japan and overseas. The Museum aims to make every exhibition interesting for new and seasoned visitors alike.
---
Cultural Exchange Exhibition
Feature Exhibitions
Highly original temporary exhibitions add dynamism to the Cultural Exchange Exhibition Hall.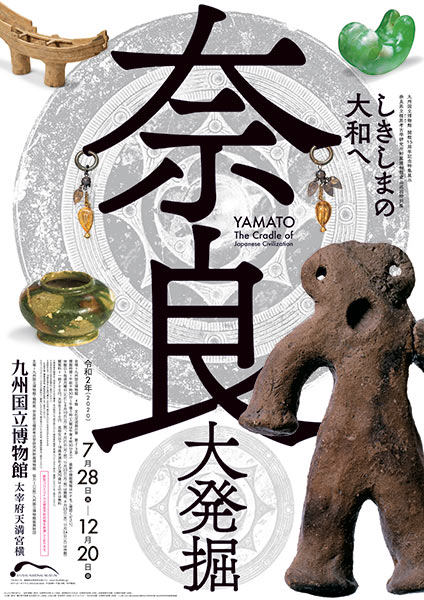 Cultural Exchange Exhibition Hall—Feature Exhibition


---

Celebrating 15 Years of Kyushu National Museum
Yamato: The Cradle of Japanese Civilization
28 July 2020 (Tue) – 20 December 2020 (Sun)
---
The prefecture we now know as Nara, famous for its deer and its giant Buddha statue, was once known as Yamato. It is also a site where many historically significant artifacts have been unearthed. These artifacts bear witness to how elements of foreign cultures came to Japan and helped pave the way for Yamato's development into the capital of a nation. Come and see treasures excavated from the ancient capital of Japan, and discover the roots of Japanese culture.
---
---
Past Feature Exhibitions and Special Displays (2019 onward)
---