Current Exhibitions
Current Exhibitions
---
Special Exhibitions
The Special Exhibitions are treasure troves of inspiration filled with beauty and knowledge from all over the world. They are held several times a year under a wide range of themes, displaying excellent works carefully selected from collections in Japan and overseas. The Museum aims to make every exhibition interesting for new and seasoned visitors alike.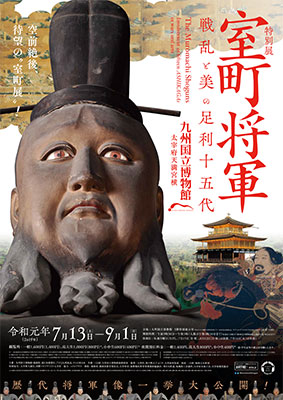 Special Exhibition

---

The Muromachi Shoguns: Involvement of fifteen ASHIKAGAs in wars and arts
July 13, 2019 (Sat) – September 1, 2019 (Sun)
---
The first to the fifteenth generation of the Ashikaga family were Muromachi shoguns who wielded political power for about 240 years, with their base in Kyoto. Their beloved art and culture of the period will be on display, such as the charming portraits of successive generations that shows the ups and downs of life and their individuality. The highlights of this exhibition are the 13 statues of the shoguns which are gathered and shown outside the Toji-in temple in Kyoto for the first time.
---
Cultural Exchange Exhibition Feature Exhibitions
Highly original temporary exhibitions add dynamism to the Cultural Exchange Exhibition Gallery.