Feature Exhibition:
Celebrating 15 Years of Kyushu National Museum
Treasures from the Tearoom
Prized Textiles of the Maeda Clan
1 December 2020 (Tue) – 24 January 2021 (Sun)
First half: 1 December 2020 (Tue) – 23 December 2020 (Wed)
Second half: 1 January 2021 (Fri) – 24 January 2021 (Sun)
Cultural Exchange Exhibition Hall, Room 9
Tea ceremonies as an art form spread across Japan in the Muromachi period. As more and more people began practicing tea ceremonies, they also engaged in related pursuits, such as collecting quality antique textiles. These fabrics, many of which had come from mainland Asia before and during the sixteenth century, are known as meibutsugire, or prized textiles. This exhibition highlights the collection of prized textiles once owned by the Maeda clan, a daimyo family that governed Kaga Domain during the Edo period. The collection was started by the third head of the family, Maeda Toshitsune (1593–1658), who was an avid patron of the arts and a tea practitioner himself. Like many other tea practitioners, he collected textiles for use in tea ceremonies, many of which he had acquired from Hirado, Nagasaki. We are proud to present a number of fine textiles and a recently conserved album formerly in the Maeda clan collection, as well as items from other collections for your enjoyment.
---
---
Exhibition Overview and Highlights
Part 1: Treasures of the Tearoom
Tea practitioners often gave names to tea ceremony utensils that boasted long, distinguished histories or famous past owners. While textiles were also ever present in tearooms, they were treated as furnishings, rather than works of art to be admired. In the seventeenth century, however, tea practitioners extended their practice of collecting and naming prized tea ceremony utensils to these textiles, thus paving the way for the formation of many collections including the highlight of our exhibition: the former Maeda clan collection.
One of the most well-known textiles of the collection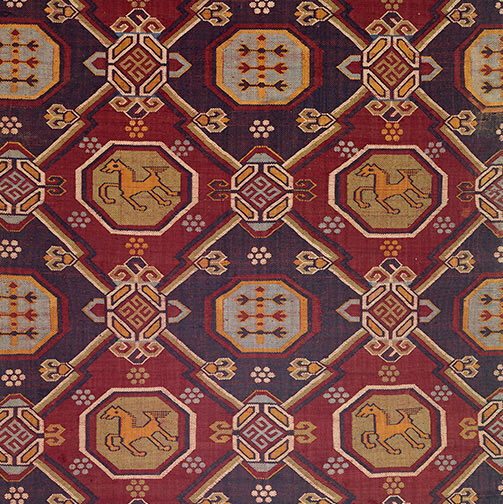 Brocade, named "Arisugawa"
15th–16th century
Kyoto National Museum

Exhibition period: second half
Can you spot the bees?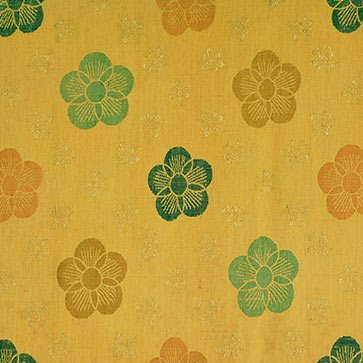 Brocade decorated with plum blossom and bee motifs
16th century
Kyoto National Museum

Exhibition period: first half
Part 2: The Kōnoike Family Textile Collection
Stored away in the chest of drawers pictured below is an heirloom from the Kōnoike family of wealthy merchants in Osaka: a collection of some eighty-seven different fabrics, most of them drawstring pouches for tea caddies that had been picked apart. As with the Maeda clan, the Kōnoike family produced their fair share of dedicated tea practitioners. Their collection of tea caddy pouch fabrics is nothing short of extravagant, with many having come from Yuan China, and all of them attesting to the discerning eyes of their collectors.
A treasure chest… of textiles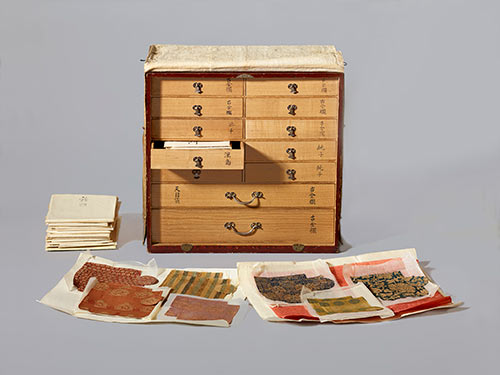 Textiles drawer chest from the Kōnoike family
13th–17th century
Private collection

Exhibition period: throughout (individual fabric exhibits will be rotated every two weeks)
Part 3: Textiles as Mountings for Hanging Scrolls
The term "mountings" refers to both the backing as well as the decorative frame surrounding the central painting or calligraphy of a hanging scroll. While mountings can be made of paper, fabric is also often used. Hanging scrolls are important tearoom furnishings, which is why tea practitioners like Toshitsune also collected fabrics that could be used as mountings. The former Maeda clan collection includes four albums of textiles that have been assembled for this purpose, one of which has been acquired by Kyushu National Museum. After a meticulous conservation process, we are proud to present all thirty-eight pages of this album to the public in this exhibition.
More than just a scrapbook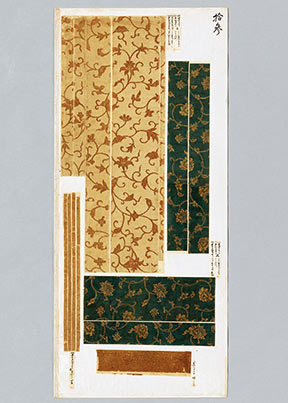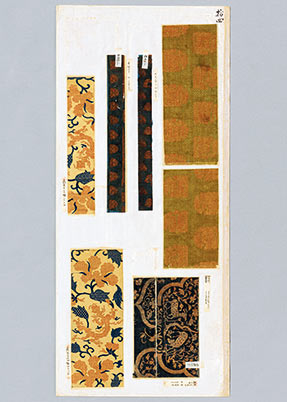 Textiles album from the Maeda clan
14th–16th century
Kyushu National Museum

Exhibition period: [left] first half, [right] second half
Other exhibits of interest
This exhibition will also showcase a textile work that once belonged to the Maeda clan collection, but has since come into the hands of another textile collector, as well as introduce a historically significant work from the Jurchen Jin dynasty of China, where gold brocades arguably originated.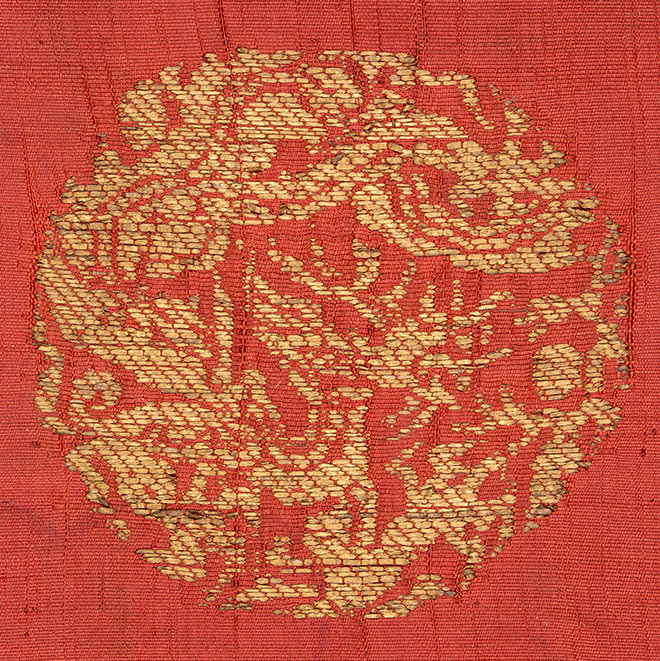 Gold brocade decorated with dragon medallions
12th–13th century
Private collection

Exhibition period: second half