Exchange Student Event 2021


Kofun Colours: Decorated Japanese Tumuli


Registration for this event is closed. Thank you for your interest.

Kyushu National Museum is back with its annual Exchange Student Event! Held every year on 3 November (Culture Day), this event offers international students, ALTs, and CIRs a chance to experience aspects of Japanese history and culture up close. This year, join us as we find out more about Kofun-period tomb drawings from third to seventh century Japan!
Kofun? Ko-whomst?
Kofun tombs refer to huge burial mounds that were constructed across Japan from the third to the seventh century – what we now call the Kofun period! While these iconic tombs – tumuli – are perhaps best known for being shaped like keyholes, they actually come in all sorts of shapes and sizes; some even feature striking paintings on their inner walls. These decorated tumuli are especially prevalent in the Kyushu region, where our museum is located.
The kofun tomb circled in red is the Ōzuka tumulus in Keisen City, Fukuoka Prefecture. Inside its keyhole-shaped structure lie striking decorations on its walls.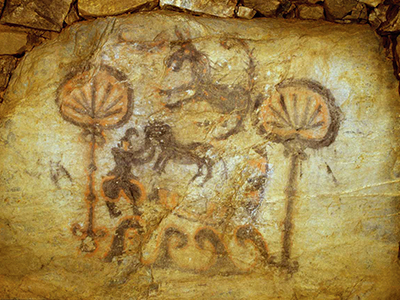 The Takehara tumulus, found in Miyawaka City, Fukuoka Prefecture, contains vivid wall paintings such as these. This particular painting makes use of red and black pigment, and depicts a person leading two horses, a boat upon some waves, and two uchiwa fans flanking the central characters. These fans were likely used to shade important people from the sun.
Take your newfound knowledge and turn it into a cute accessory!
Get your creative juices flowing and make your own kofun-inspired accessories with heat-shrink plastic and poster paint markers in our DIY keychain workshop! These little keychains are super cute and are a great way to commemorate your day out at the museum.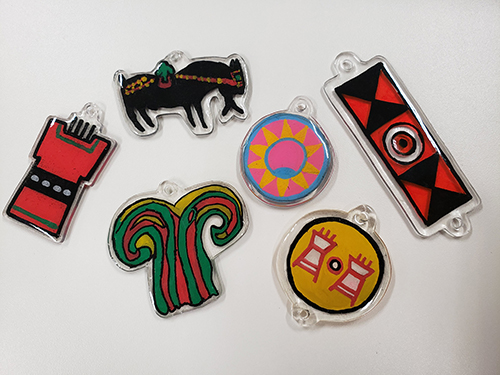 Details about this year's event are as follows:
Date: 3 November 2020 (Wednesday)
Time: 1.30 p.m. – 4 p.m. (Reception booth opens from 1 p.m. onwards.)
Eligibility: Exchange students, ALTs, CIRs
Capacity: 15 people, on a first-come-first-served basis.
Admission: FREE
Enquiries: ryugakusei@kyuhaku.jp or 092-929-3062 (Japanese, English, Chinese, and Korean services available)
Registration:
Pre-registration is required for this event. Please fill in this Google Form by 20 October 2021 (Wednesday) to register your interest in participating. We will send out a confirmation email to successful applicants closer to the date, so please make sure that you are able to receive emails from ryugakusei@kyuhaku.jp
Programme:
1 p.m. Registration opens
1.30 p.m. Mini history presentation on kofun tumuli and decorated tumuli
2.15 p.m. DIY accessory workshop
3.15 p.m. Free and easy time in the Special Exhibition and Cultural Exchange Exhibition halls (free tickets provided)
Please take note of the following:
The mini history presentation will be conducted in Japanese. Participants can request for English-language interpretation support if required.
In addition to their own DIY accessories, participants will also be given a commemorative gift from the museum.
We will be taking photos during the event. These photos will be used for record-keeping purposes, and may be used on our website where relevant.
This event is subject to last-minute cancellation based on the Covid-19 situation in Fukuoka. Should this happen, we will notify all participants as soon as possible via email. We thank you for your patience and understanding in this regard.