News
Notice on Museum Reopening
Kyushu National Museum has reopened to the public.
In order to prevent the spread of the novel coronavirus, we would like to request that all visitors comply with the following guidelines:
Wear a mask throughout your visit at the museum. Visitors not wearing masks will not be granted entry into the museum.
Follow our staff's instructions for temperature scanning before entry
Refrain from visiting if you have a fever or cold/flu-like symptoms
Visitor Restrictions
The following visitors will not be allowed to enter the museum:
Visitors with a fever, cold/flu-like symptoms, and/or an impaired sense of taste
Visitors who are close contacts of a confirmed coronavirus patient (e.g. family members, co-workers, classmates)
Visitors with body temperatures of 37.5°C or above during the temperature screening at the museum entrance. Visitors with body temperatures of 37.0°C or above will be asked to confirm whether they have cold/flu-like symptoms.
Visitor Guidelines
Please observe the following guidelines when in the museum:
Visitors who feel unwell should alert the nearest staff member. Our staff may also approach any visitors who seem unwell
Wash hands frequently
Keep a distance of two meters (or six feet) from other visitors when in the galleries
Refrain from touching the walls and display cases
Changes to Museum Opening Hours, Facilities, and Services
Please note that the museum will be reopening with the following temporary limitations:
Opening hours are now 9:30–17:00 on all days (closed on Mondays or the subsequent working day if Monday falls on a public holiday).
The museum will not be open at night on Fridays and Saturdays until further notice
Group visits are limited to groups with less than ten people
Staff may impose crowd-controlling measures to limit entry into exhibition halls and rooms when necessary to prevent visitors from gathering in enclosed spaces
The following facilities will remain temporarily closed until further notice:

Nursing room (first floor)
All rental facilities (Museum Hall, seminar rooms, tea house)

The following exhibition rooms/displays in the Cultural Exchange Exhibition (fourth floor permanent exhibition) will be temporarily closed/unavailable:

All hands-on displays (picture books, hands-on corner in Exhibition Room 8, etc.)

The following services will be temporarily unavailable:

Audio guide rental
Volunteer tours

The following amenities will be temporarily unavailable:

Touch screen displays
Water coolers
Hand dryers in the restrooms

The restaurant and café will remain closed until further notice
We also recommend visitors purchase tickets online before visiting to prevent crowds gathering at the ticket counters. Please visit this page for more details.
Measures Taken by the Museum
At Kyushu National Museum, we are dedicated to ensuring that our visitors have a pleasant, safe, and educational experience. As such, we are taking the following extra precautions to help prevent further spread of the novel coronavirus:
Disinfectant will be placed at all museum entrances
Elevator buttons, restrooms, escalator handrails, and all other essential amenities that are regularly touched will be cleaned and disinfected more frequently
All staff are now required to wear masks and undergo temperature screening twice a day to ensure they are healthy and ready to serve our visitors
The number of visitors inside the exhibition halls will be limited to 400 at any given moment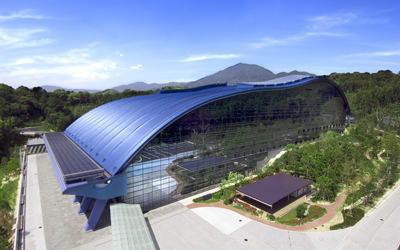 <![IGNORE[]]>